Miss-Education testimonials
Saskatoon Miss-Education Burlesque Training Weekend
May 11-13

DRUM ROLL PLEASE! The dates for the 2018 Miss Education Weekend will be May 11-13. Please save the date!
We are pleased to announce the 2016 and 2017 Saskatoon Miss-Education Burlesque training weekend were a total success! Stay tuned for details for 2018!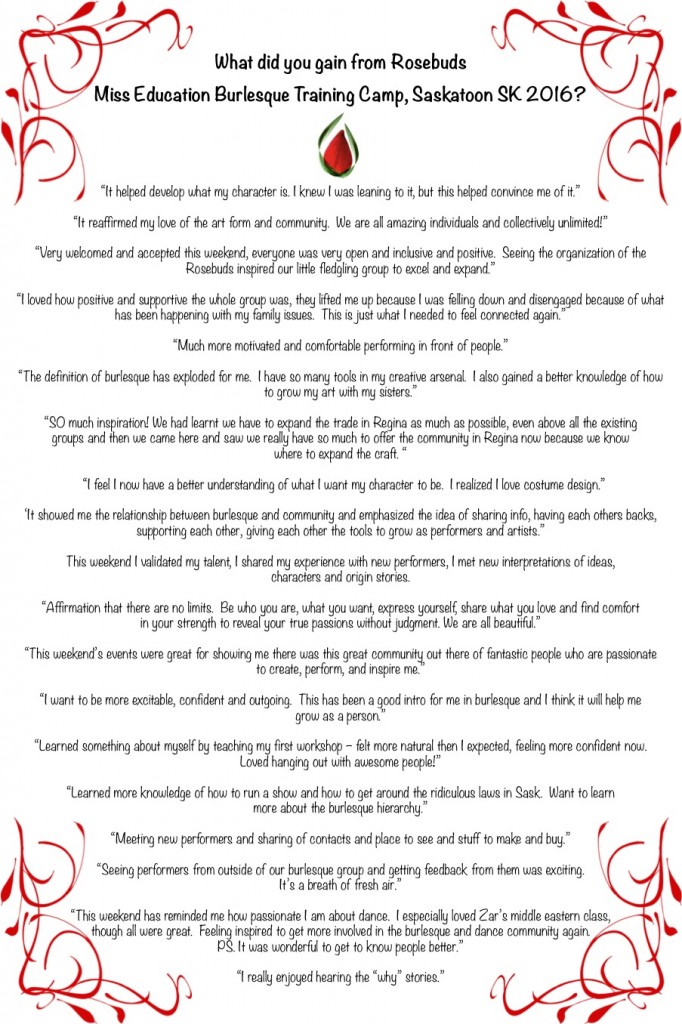 The Saskatoon Prairie Girls Miss-Education Weekend 2018 is an educational and social gathering for emerging and established burlesque performers from Canada and beyond. It is brought to you by the Rosebud Burlesque Club
We endeavor to bring together top notch instructors, presenters and facilitators to provide a weekend chock full of learning and fun for the greater burlesque community! We will focus on skill building and sharing, personal development and the enhancement of the burlesque field in artistic quality. The Miss-Education Weekend will take place at the Free Flow Dance Centre 224 25th St. W. Saskatoon. 2017 Dates TBA
A complete and detailed workshop list will be provided as soon as we have confirmed our special guest instructors.
Hotel information
The Holiday Inn Express is a stone's throw away – walkable in less than 4 minutes.
http://www.ihg.com/holidayinnexpress/hotels/us/en/saskatoon/yxeca/hoteldetail
The Ramada is also within a 10 minute walk of the dance centre
http://www.ramadasaskatoon.com/
We do not recommend that you stay at the Northgate hotel as it has a bad reputation. It is super cheap but also questionable – You have been forewarned.
We will be negotiating a corporate rate at both hotels and will have details about room prices shortly.
KEEP INFORMED!
For more information please contact burlesque@sasktel.net or by phone at 306-665-5998.