Hedonism- Postponed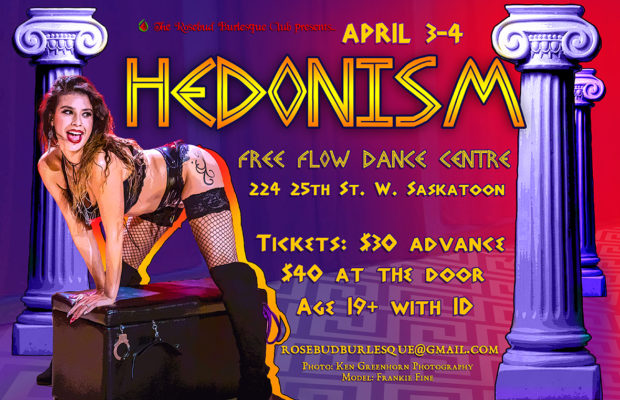 The Rosebuds are back with an event you are not going to want to miss!
HEDONISM – The pursuit of pleasure; sensual self-indulgence
The theory that pleasure (in the sense of the satisfaction of desires) is the highest good and proper aim of human life.
Come join us for an evening of pure pleasure. Your senses will be tantalized by the sounds, sights and tastes of pleasure!
Limited tickets available- Cabaret style seating.
VIP table auction available for top bidder.
Music and Performances.
Delectable bites.
Complimentary prize draw.
Photo opportunities.
Interactive games.
Tickets $30 advance $40 at the door
Email: rosebudburlesque@gmail.com
Age 19+ with Photo ID
$1 memberships required (will be available at the door)
FEATURING
MC Isaac Bond
Headmistress Cheripop Purr
Lucy Dickhardo
Taistee Tealgood
Debra Dewey
Delia Darkheart
Helika
Joan Goodman
Evita Pope
Frankie Fine
Sweet December
Rosebuds group routines class
Plus Maid Aqua Sunsparkle!
Don't miss our Naughty Photo Booth with MPet Productions!
Sexy Fashion show by Bodacious Bustlines!
https://www.facebook.com/BodaciousBustlines/
Prize SPONSORS
Those Girls at the market
https://www.facebook.com/thosegirlsatthemarket/
Strapped Lingerie
https://www.strappedlingerie.com
Positive Passions
https://www.facebook.com/PositivePassions/