About
The Rosebud Burlesque Club
Putting the "tease" back into striptease! The Rosebud Burlesque Club was borne out of a desperate need in the prairies for class and sass! Unique, yet with a retro feel, the Rosebuds troupe has been setting fire to the wheat fields and steaming up the Saskatchewan landscape with their daring antics and classic yet tawdry performances!
Unfamiliar with burlesque? Let the Rosebuds teach and tease you! Wholesome fun mixed with adult humour makes for a wild show, and one of a kind experience! Burlesque is all about diversity, making sexy fun, and we can bring that to your stagette or birthday parties! So find your inner Rosebud by taking our classes, or 'sample' our wares with our "One Night Stand" workshops!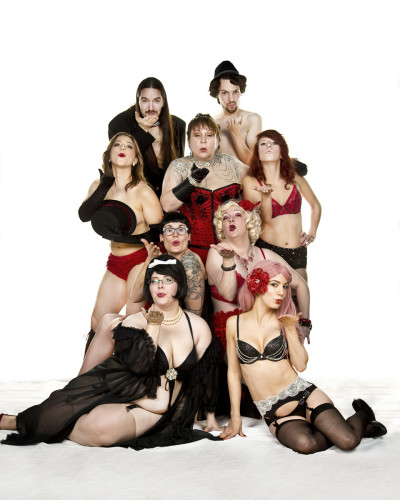 The Burlesque Revival
Info below quoted from Wikipedia definitions of Neo and New Burlesque:
Neo/New Burlesque is a revival or updating of the traditional burlesque performance. A new generation nostalgic for the spectacle and perceived glamour of the old times determined to bring burlesque back. The Neo-Burlesque (or "new burlesque") revival brings burlesque into the 21st century. Today New Burlesque has taken many forms, but all have the common trait of honoring one or more of burlesque's previous incarnations, with acts including striptease, expensive costumes, bawdy humor, cabaret and more. There are modern burlesque performers and shows all over the world, and annual conventions such as Tease-O-Rama, New York Burlesque Festival, The Great Boston Burlesque Exposition, and the Miss Exotic World Pageant.
As with the earlier burlesque, neo-burlesque is more focused on the "tease" in "striptease" than the "strip." New Burlesque tends to put the emphasis on style and tend to be sexy rather than sexual, often involving humor. Unlike modern strippers, who dance in strip-clubs to make a living, burlesque performers often perform for fun and spend more money on costumes, rehearsal, and props than they are compensated. Our performers never strip to less than pasties and g-string and are often accompanied by live music.
Audiences for neo-burlesque shows tend to be mixed; men, women, straight, gay, and everything in between.