ICYMI: History of Burlesque Talk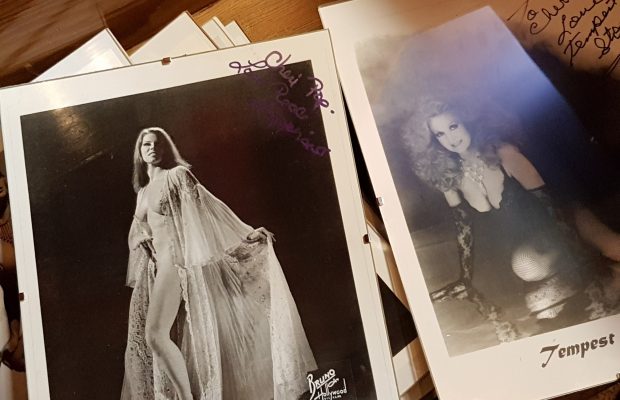 Full disclosure: I'm a bit of a history geek. Maybe more than a bit–my love of history has, over the course of my life, walked me down a path towards a career in the heritage sector. My bookshelves are covered in old books and books about history. One friend who visited our apartment likened it to a curio cabinet (which probably says more about my housekeeping abilities than the amount of interesting stuff we have lying around). My husband, clever man that he is, put two and two together this Valentines day and decided to get me a set of books that pandered both to my love of history, and my growing interest in burlesque: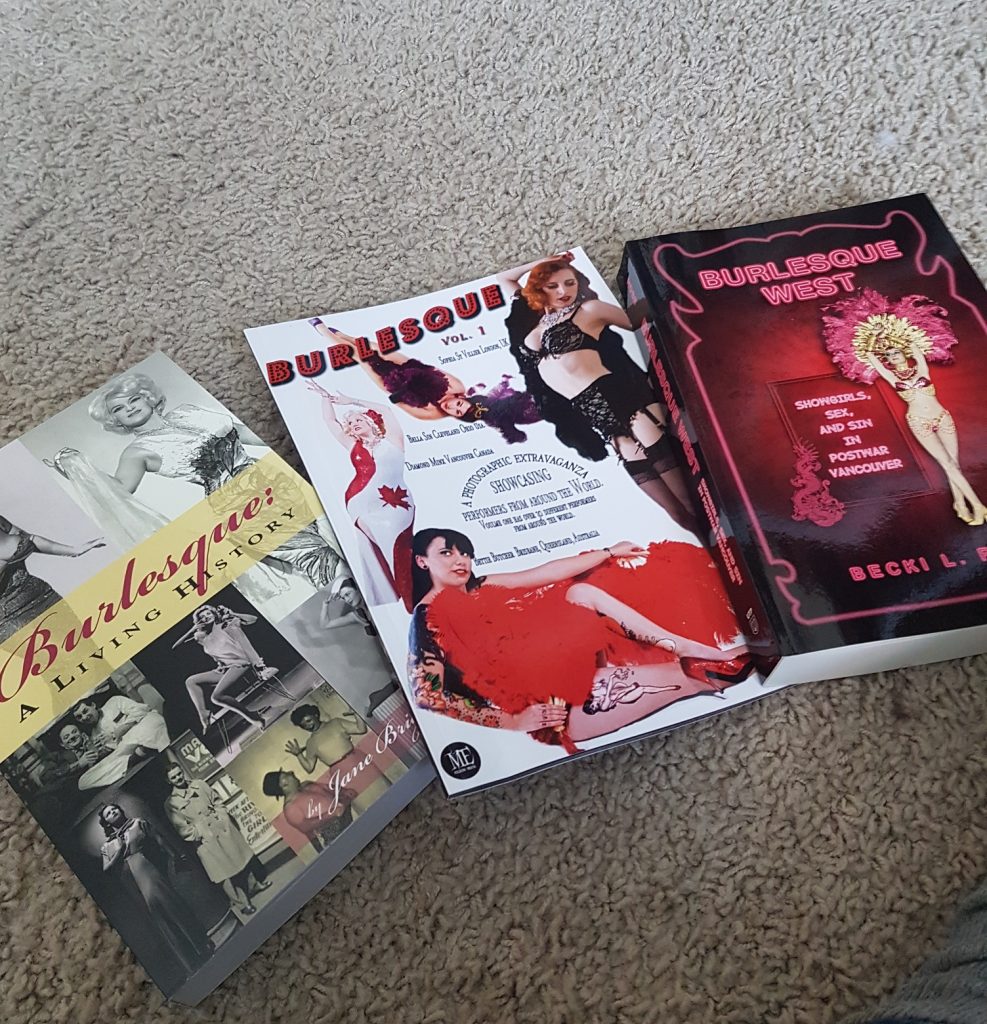 When Headmistress Cherripop Purr announced her history of burlesque talk on February 22, I was all over it. It turned out to be a lovely evening with wine  on offer alongside tons of juicy information about the early days of burlesque and its stars. Jackie had also brought in for our viewing pleasure an array of rare books, videos, and her very treasured collection of autographed photos of some of the legends of the scene (see photo above). I won't replicate the talk here (though I wrote notes like a fiend!), but instead will share a few points of trivia that turned up:
Burlesque is thought to have been brought to North America by the British Blondes under troupe leader Lydia Thompson (ca. 1868). The troupe took New York audiences by storm.
Early vaudeville shows were multi-faceted, featuring comedy, improvisation, song and dance, variety acts, cross-dressing and other "obscene" costumes, and of course, burlesque acts.
Often the shows would involve wrestling or boxing as well.
Mata Hari (Margaretha Geertruida "Margreet" MacLeod) set the gold standard as a femme fatale, not only performing exotic dance and working as a courtesan, but ultimately serving as a spy for Germany during the First World War.
Sally Rand is rumored to have single-handedly saved the Chicago World's Fair with her highly illegal naked fan dance.
Josephine Baker, a wildly energetic dancer from St. Louis who made it big in Paris was the first black woman to star in a Hollywood film (Zouzou, 1934)
I learned a new word – Ecdysiast: a person who removes things. A striptease performer.
Ecdysiast Gypsy Rose Lee once wrote a novel about a string of murders in the burlesque backstage. Called, appropriately, The G-String Murders. It sounds awful and I want it. 
Minsky's theatre was the biggest burlesque theatre of its time. It is also the name of one of Headmistress' cats.
It is not unreasonable to have your g-string ripped up, up and away by a bit of fishing line at the end of an act.
Clip on earrings let you be more thorough in the taking off of things. Think about it.
I might expand on some of these points and stories in the future, supplementing with images of the early vaudevillian roots of burlesque and early boxing/wrestling culture from the Neil Richards fonds at the University of Saskatchewan Archives and Special Collections. Throwback Thursday posts, anyone?