"Somewhat Clean" Bingo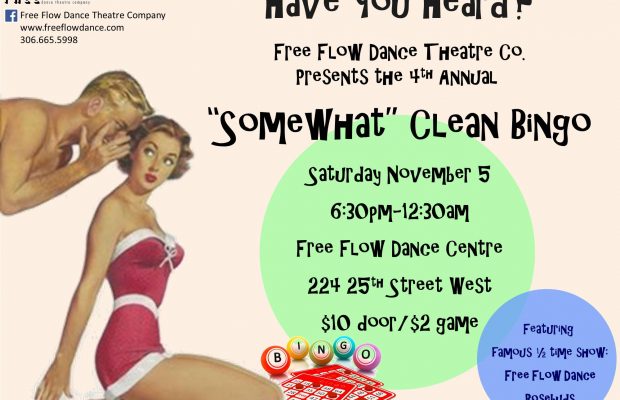 November 5th 6:30pm Free Flow Dance Centre
It is that time of year again! Get ready for some good somewhat clean fun! Get out those bingo dabbers and get ready to WIN!
Free Flow Dance and their sister club the Rosebuds are thrilled to bring you our semi annual bingo event this Nov 5th!
Doors open at 6:30pm and bingo round begin at 7pm!
Door fee is $10 and bingo round start at only $2!
There will also be snack and concession available as well as out INFAMOUS 1/2 time show featuring Free Flow Dance and the Rosebuds!
Tell your friends and get here early to get a seat! Our last FUNdraising bingo event was standing room only!
There is no ATM on site so bring cash.
Contact us to contribute something from your local business!
Thanks to our prize sponsors:
Glitch Gifts
Bartari
Fabutan
Honey Bun Cafe
The Capitol Music Club
The Better Good
Saskatoon Symphony Orchestra
Rosebud Burlesque Club
Desert Beats Belly Dance
CMD Designs
Designs by Quinn
Free Flow Dance Board of Directors
Jack and Dorothy Latendresse
Joan Goodman
Gina Di Paulo
Anthony Bidulka
All proceeds go to the charitable org Free Flow Dance Theatre Company. Thanks for supporting the arts in Saskatoon!