Roxy Debuts : Peer Review
Hello again, diary!
I had the opportunity a couple of weeks ago to share my work in progress with a couple of the darlings of the stage, Scarlett Foxx and Deliah Darkheart. These two fabulous ladies watched my piece, and that of another debutante performer, and provided their expert feedback to help us provide some polish.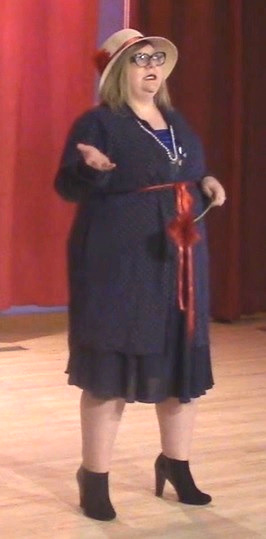 Even an experienced performer such as myself was honored to have her work critiqued by not one but two of the greats. My costume has been progressing apace, and while it might not look like much here, it is actually quite uncomfortable, so I volunteered to perform first. Here I am seen describing my piece to the panel of judges. 
The feedback was certainly useful, and I took a whole page of notes, and was given some ideas that might lead to me reworking the second portion of my piece, and has certainly led to some costume alterations (honestly! I didn't know when I enrolled in the Rosebud academy that I would have so many electives in home economics!)
What was just as useful as the commentary was the footage taken by the headmistress herself. I had been feeling (I confess this here, diary, and here only) a little insecure in my piece, but seeing myself perform it got me excited again about its high points. Once I have added the polish, it will be just as stimulating as I had originally envisioned. 
Here's to carrying on in the new year! And happy holidays, diary. I intend to spend the next week bathed in champagne and chocolate, and so will not write much of any sense. 
kiss kiss, 
Roxy