Body Paint Cabaret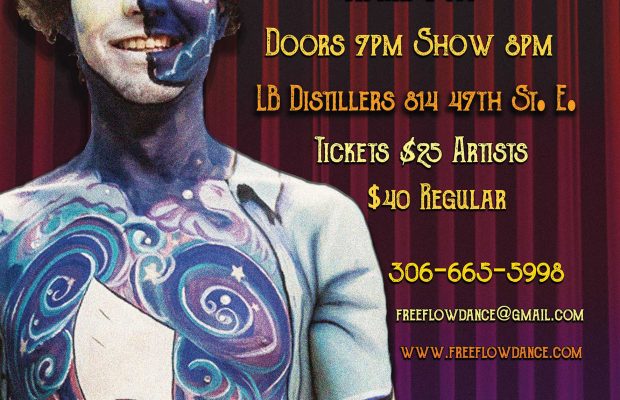 Our Parent group Free Flow is pleased to announce that our Body Paint Cabaret event will take place on April 7th at the gorgeous special event lounge at the Lucky Bastard Distillery!
Please join us for our "Welcome to the Circus" themed event in this plush venue.
You will be treated to a variety of performance ranging from contemporary dance to spoken word to acro yoga by artists who have been turned into living, moving pieces of art themselves by local body painters.
They are still accepting a limited number of painters and acts for the event.
A cash prize of $250 will be awarded for the top act/paint job this season. No entrance fee to compete and free entrance.
Tickets will be on sale shortly. There will be a limited number of Artists Rate tickets available at $25 (for our other artist fans and friends) as well as regular general admission tickets at $40.
This is THE leading edge artistic event of the season! Save the date and be prepared for a night unlike any other in Saskatoon.
Contact: freeflowdance@hotmail.com for tickets!