Link Roundup: At the Circus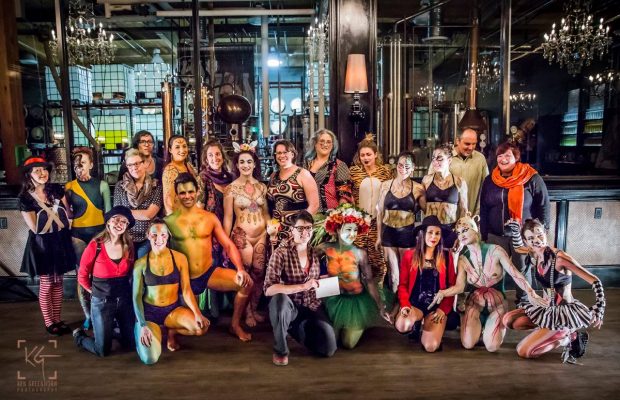 This photo gives you a bit of the flavor of Free Flow Dance's body paint cabaret on April 7th. The event was held at LB Distillers, which provided a fabulously dark carnival-esque backdrop to the circus-themed art show.
I tend to enjoy this sort of thing–a mixed media of performance art, dance, and visual art. The winning piece by dancer Alex Hartshorn and painter Neaera Deptuch was absolutely heart-rending. Alex used the power of her gaze to incredible effect, expressing the deep sadness of a young woman forced to live an unhappy life behind a smiling facade. But what really inspired me about this event was the way it seems to have caught the imagination of my husband. My husband is a software engineer and doesn't usually go in for anything overly artsy–but the entire feeling of the event left an impression on him, and for the past week our house has been a haven for electro-swing, books about fantastical circuses, and bizarro-world films.
So, I've decided to share with you a few circus-y links, starting with the hubby's top inspirations, and then a few of my own, which may in turn inspire you in your own burlesque pursuits.