Miss Education Saskatoon Burlesque Training Weekend
PLEASE NOTE THAT WE WILL NOT BE RUNNING MISS EDUCATION IN 2022 Stay tuned for the future!
Saskatoon Miss-Education Burlesque Training Weekend May 11-13 2018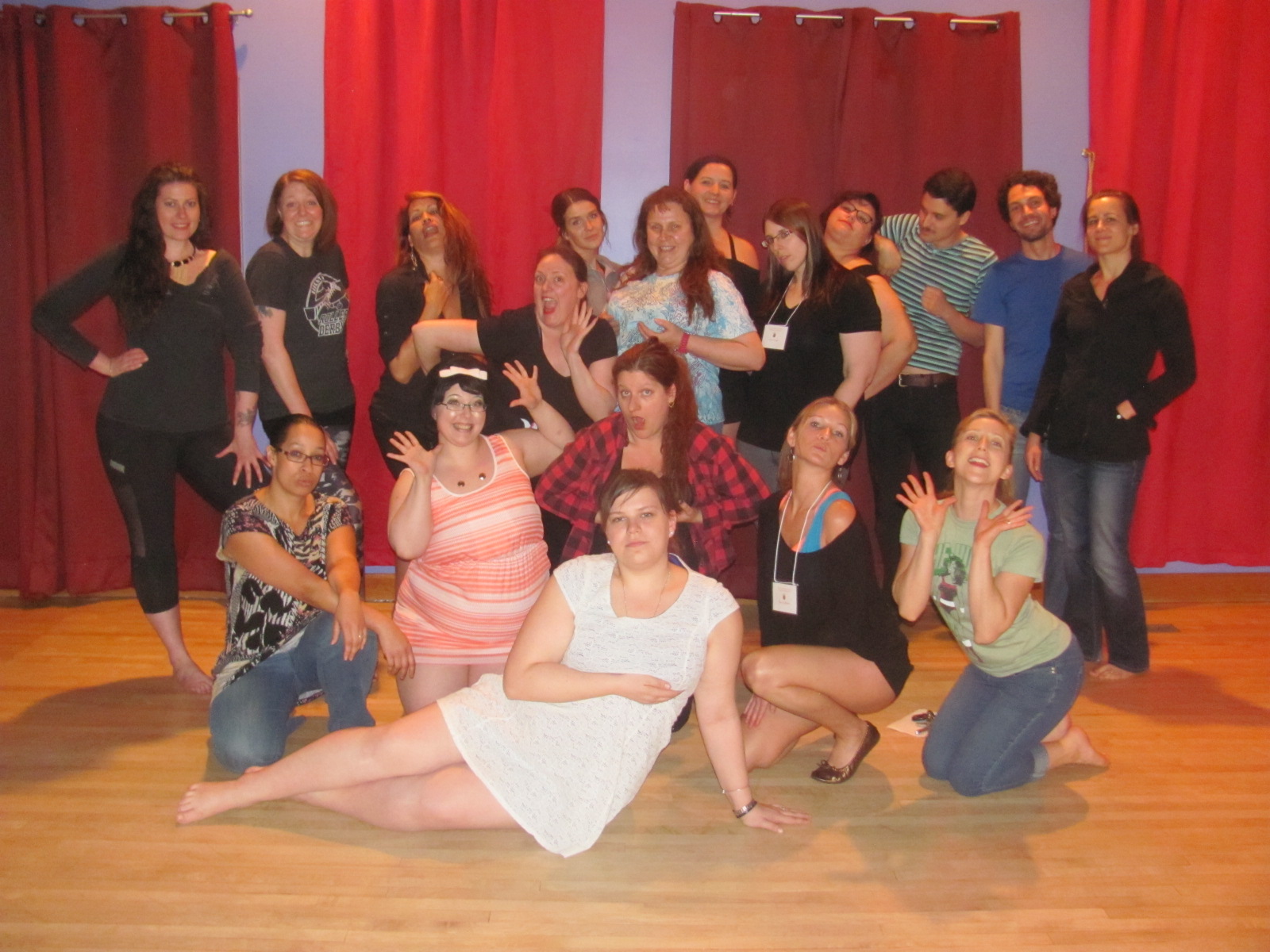 We are pleased to announce the third annual Saskatoon Miss-Education Burlesque training weekend!
The Saskatoon Prairie Girls Miss-Education Weekend 2018 is an educational and social gathering for emerging and established burlesque performers from Canada and beyond.  It is brought to you by the Rosebud Burlesque Club and organized by Headmistress Cheripop Purr.
We endeavor to bring together top notch instructors, presenters and facilitators to provide a weekend chock full of learning and fun for the greater burlesque community! We will focus on skill building and sharing, personal development and the enhancement of the burlesque field in artistic quality. The Miss-Education Weekend will take place at the Free Flow Dance Centre 224 25th St. W. Saskatoon from May 11-13 2018.
Registration fees are being kept low so as many people as possible can afford to attend. The training weekend fee is $80.00 and includes entrance into all workshops, social events and the peer review showing. Payments can be made by cash or cheque, pay pal or etransfer. Please contact burlesque@sasktel.net to arrange your registration.
THE DETAILED SCHEDULE IS NOW UP!
Friday May 11

5-6pm Welcome, sign in, meet and greet cocktail hour – cash bar
6:00-7:30pm – Poi and Flow Arts with Spinja – Movement class
Tara Spinja Stratton started  dance training at the age of seven in Saskatoon, SK with progression to a senior/assistant teaching. In later years (due to injuries) She began a journey for personal wellness and life balance; this was of utmost importance and a major long-term goal for achievement. Tara began her adventure into the movement of Flow Arts (specifically major in Poi) to incorporate dance choreography and become SPINJA with amazing training from many well-known flow artists throughout North America.
SPINJA's coaching involves a positive workshop atmosphere; as a poifessor SPINJA utilizes various mediums and poi-based concepts attractive to all ages this can incorporate numerous multi-props with creative artistic entertainment to hypnotize and captivate a variety of audiences. In addition, this provides excellent interactive and animated performances with a cultural presentation on the Poi movement and all it has to offer. Some moments include SPINJA's participation in company promotions, celebration & anniversary events, fundraisers, stage performances, videos, galas, theatre, festivals, and more…
SPINJA's passage into the performing arts (Flow Art of POI) is inspiring, creative, motivational, and has been life changing; her practice endorses the balance of mind, body and spirit. It provides the required rehabilitation to maintain her long term physical zen (a personal form of meditation); the immeasurable possibilities of the Flow Art culture conveys the importance of positive growth and development, overall life wellness, diversity, and to inspire Saskatchewan communities.
POI 101 – DESCRIPTION
SPINJA's interactions include an important component on cognitive & physical health with poi inspiration (imagination and expression of creativity) to others to endorse community development; cultural awareness and growth; in support of Saskatchewan and the importance of arts culture. Props improve overall physical, mental and spiritual wellbeing (with measurable results), SPINJA encourages these benefits of poi (flowarts) in all its creation diversity.
Poi is easy to learn and has numerous positive effects, no matter what age or ability, youth through seniors; it can be as challenging or as creative as one makes it. POI 101 structured workshop syllabus is a learning tool applicable to physical education, creative arts, mathematics, physics, science, health and any sports (initiation to professionals). This movement incorporates art culture with life balance; additional Poi techniques boost faster reaction times, and include healthy living, and positive processes; the following details elaborate on this valuable experience.
Poi additionally provides increased measurable coordination, cognitive and psychological benefits:
– Proven to advance hand/eye coordination/response times, expand dexterity and range of motion (flexibility); the immediate feedback from POI allows for quick improvement
– Balance is improved through body motion; additional advantages include increased alertness, ambidexterity, body awareness & conditioning, core strength, creativity, focus, improved memory, injury prevention, mind development, muscle toning, perception, rehabilitation, strength, and more…
– Strategy-based educational teachings encourage diversity, equality and team-building as Flowarts create and strengthen relationships, additionally patience, self-esteem, with persistence equal personal success in Flow Arts; Poi can assist in almost every area of life.
7:45-9:15pm – Queering Burlesque with Elise Pallagi – lecture, discussion group
Elise Pallagi is a poet and multi-disciplinary performance artist and a member of the 2017 Saskatoon Poetry Slam Team. Elise's work focuses on her personal experience and struggles as a transgender woman growing up and living in the Canadian prairie. As a performer, Elise has been a featured artist at The Canadian Festival of Spoken Word, Regina Word Up, Tonight it's Poetry, The Saskatoon Pride Festival and The Ness Creek Music Festival and has performed at numerous shows and open mics across Canada. Combining elements of Vaudeville, Burlesque, subversive politics and roller derby with slam poetry, she likes to convey emotional authenticity and relatability in her work, that both moves audiences and touches hearts and minds.
The workshop will be divided into three main parts. History of queer involvement in burlesque, gender and sexuality as a spectrum and how to be an effective ally. It will include a power point presentation as well as a question and answer session. Participants are encouraged to bring writing materials but not required to take notes.
Saturday May 12

9-10am Good Morning healthy snacks!
10-11:30am Yoga Dance with Ramona Cheeks – movement class
Amanda Plante has been a wayward prairie girl at heart since she moved to Saskatoon in 1995 for a Master's in Toxicology. Here, she met a guy, got shacked up and then about a decade later had two kids. She has a desk job by day as a paper-pusher extraordinaire for the University's Animal Care Committee. When she's not chained to her desk, Amanda likes to move and groove whenever she can: Amanda bikes to work year-round and she teaches yoga and practices yoga and dance. One of her most blissful moments was experienced while leading a Let Your Yoga Dance class at a retreat in Big River, SK. The shared energy, creativity and enthusiasm of all dancers, young and old, was absolutely pure joy. Amanda believes the point of yoga is not to be blissed out in a candlelit studio but to be able to keep your cool when the 'shit hits the fan'. She strives to be a 'gem collector' so that moments of joy and connection abound in the space around her.
Let Your Yoga Dance® is a fusion of yoga, the breath, and creative, user-friendly dance. Developed by Megha-Nancy Buttenheim, the mission of Let Your Yoga Dance: Grace in Motion® is to spread joy and consciousness throughout the world by transmitting body health, brain health, heart health, and soul health to all populations. Seven energy centres (chakras) provide the foundation for this dance of yoga which is suitable for every body and lots of fun for all ages.
"What actually happens in Let Your Yoga Dance®? Grace in Motion happens; a chakra dance explosion happens. Seven energy centers provide the foundation for this dance of yoga. We dance the Yoga of the wild and woolly, the sexy and silly, the deep and delicious. We wrap ourselves in our biggest embodied self while dancing beyond our dreams. We are held in the sacred arms of mother earth while simultaneously honoring her. We are shaken to our core by drums and rhythms of the Earth. We dance our animal archetypes and our spirit prayers. We dance our energy, inviting it to flow upward from the base of our spine up through the crown of the head, and back down to the earth again. Result? A blissful body, joyous heart, a steady and quiet mind." (http://www.letyouryogadance.com)
Followed by the Let Your Yoga Dance class, She will offer a 30 minute yoga nidra including a chakra meditation. The Integrative Amrit Method of Yoga Nidra is based on the teachings of Gurudev Shri Amritji and crafted into a practical, modern technique by his daugher, Yogacharya Kamini Desai. Yoga Nidra is an ancient sleep-based meditation practice that works "not only relax the body, but create a different relationship with stress producing thoughts and emotions. It is designed to guide the practitioner to recognize the silent place of being that always resides within us. This practice focuses primarily on quieting the mind and boosting the energy flow in the body (prana). This released energy in the body increases the healing potential available during yoga nidra". (https://amrityoga.org)
Yoga nidra is an accessible meditation practice that focuses on cultivating multiple levels of well-being. Women simply need to lie down comfortably on the floor, usually covered by a blanket to keep warm, (or she can sit in a chair) and listen to my voice. Yoga nidra can be practiced by anyone and it's easy to follow at any age. Yoga nidra promotes deep rest and relaxation by using body scan and breathing awareness techniques to help calm the nervous system leading to less stress and better health. "Yoga nidra offers a space to explore what you need in the moment, as well as an opportunity to work on releasing long-held emotions". This practice helps women feel relaxed, present and rejuvenated.
11:30-12pm Social Break and announcements for the weekend events.
12-1 Bring a brown bag lunch. Burlesque for Lunch discussion panel. Subjects TBA! Suggestions welcome. – Talk/Round-table discussion
1:15-2:30pm Improv games with Mila Macabre – movement class
Mila Macabre was born in Romania and grew up in Yorkton. She always took part in many various activities and dance classes while growing up. She loved drama class, the movies and music and always was attracted to others with a good sense of humour. Mila found the Rosebud club 3 years ago and picked up performing again with the Rosebud Troupe. She is currently working as an independent performer. She has trained in dance and taken workshops in hula hooping and other circus art forms.
Improv Drama class will focus on improving, wit and quick thinking! This class is full of a variety of drama games. The focus will be heavy on improvisation as she feels that will help the most with burlesque performance on stage. Especially in the case that something goes wrong. It will also prove to enhance your stage presence and confidence levels.
Games Include: This is a piece of paper, Hitch hiker, Freeze, Dating Game and more!
Get ready to have some serious fun!
2:45-4:00pm The devil is in the details aka how to stick stuff on stuff with Headmistress Cheripop Purr – lecture/demo
Cheripop Purr has an HBA in Dance specializing in choreography from the University of Waterloo and has taught dance arts at the University of Saskatchewan. She studied Burlesque and Vaudeville through a Saskatchewan Arts Board research grant and was able to train with internationally renowned Coco Framboise in Toronto. She returned to Saskatoon to found the Rosebud Academy and troupe in 1997, the first Burlesque Company ever in Saskatchewan which is now in its 11th year!
She has trained with more legends than we can name but here are a few:
Judith Stein, Tiffany Carter, April March, Marinka, Penny Starr Sr., Gabriella Maze Lovey Goldmine, Toni Elling, Val Valenitine, Bic Carroll, Delilah Jones, Wild Cherry, Lottie the Body and Satan's Angel. She has also taken workshops with Indigo Blue, Jonny Porkpie, Iva Handful, Tigger, Dirty Martini, Paco Fish, Dustin M Wax, Waxie Moon, Jo Weldon, CoCo Lectric, Julie Atlas Muz, Amber Ray, Gin Minsky, Perle Noir, Rosie Bitts, Ariel Helvetica, Helvetic Bold, Jolie Stripes and Armitage Shanks amongst others.
Headmistress Purr has been invited to teach in all over SK including Moose Jaw and Regina as well as in Aberdeen Scotland, San Diego CA, Toronto ON, Cleveland OH and at Burning Man NV.
Cheripop Purr has trained at BurlyCon in Seattle and at Burlesque Hall of Fame. She has also been a special guest in San Francisco with the Red Hots Burlesque Co, featured at The Sapphire in Aberdeen Scotland and was recently featured in the book Burlesque Vol 1 by Micheal Enoches. She will also be featured in an upcoming book on the Ohio International Burlesque Festival.
She has performed at the Vancouver, Calgary, Edmonton and Ohio International Burlesque festivals as well as at Girlesque and Lunacy Cabaret in Toronto.
Cheripop Purr has been tirelessly performing and promoting Burlesque in Saskatchewan and beyond for over a decade!! She is the founder and director of the Rosebud Burlesque Club and Academy, Miss Education Burlesque Training Weekend and is currently organizing and co-producing the first ever Saskatoon International Burlesque Festival.
DESCRIPTION: Learn the ins and outs of how to add glitz and glamour to your party outfits and costume pieces from the Headmistress of the Rosebud Burlesque Club.  We will discuss different adhesives, sewing and alternate techniques when adding trims, appliques, rhinestones and all other manner of fun details to your garments.  Bring your notebook or phone to take pictures of her examples.  There will be lots of examples! Bring your current project to get tips.
4:15-5:45pm – Musicality with Zar Redlips Phoenix – movement class
Zar Redlips Phoenix has been performing Burlesque for approximately 6 years. Throughout her life, she's always been involved with dance in one form or another. These other art form dances include: bellydance (for the 30 years which she teaches as well), and Flamenco dance (which she has performed for 10 years with Kari Alba).
Zar is also involved in the music community in Saskatoon as she is a singer/songwriter and plays guitar (she has been in music for 20 years).  Her band is called Jezebel and they have performed for the Rosebud troupe at various shows such as their annual Halloween Peek A Boo show and the Rosebud Burlesque Club 10th Anniversary show.
Zar got into Burlesque because she was always intrigued with this dance form, she also wanted to step out of her comfort zone and she wanted the opportunity to study with the head mistress/choreographer Cherripop-Purr (Jackie Latendresse). She loves this dance form because of the creativity and art form she gets to tap into in terms of creating the theme of a dance, the costume designs that she has to come up, picking the music and putting the choreography together. When it all comes together, it truly is a satisfying feeling.
Zar's advice to anyone thinking of taking Burlesque classes is: just do it! It builds confidence because you get a chance to tap into your creative/artist self plus, Rosebud Burlesque Club celebrates all body types! They are an inclusive organization in that no matter what your body type is, the color of your skin, your sexual orientation, none of that matters, all are welcome! That's what Zar loves the most about dancing with the Rosebuds Burlesque Club.
The Workshop details – Understanding the Rhythm and Musicality of Creating Choreography will be divided into four sections listed below.
1) Learn to hear the beat of music.
2) Understand the importance of weight changes.
3) Burn the most common rhythm patterns into your brain.
4) Polish your final piece.
Dinner break
9:30pm-midnight – Social outing details TBA
Sunday May 13
9:30-10:30am Good Morning healthy snacks!
10:30-12:30 pm Peer Reviews. Participate by watching and writing constructive comments and feedback for the performers. There will also be some live discussion led by a facilitator.
12:30-2pm Lunch break –Keep in touch luncheon! Bring your own bag lunch, hang out with friends and peers and exchange contact info with other weekend participants during this social lunch break on our last day.
2-3:30 Building your routine with Chloe D Light – lecture/demo
Chloe D'Lite is a burlesque dancer and lover of the arts. She began her Burly Journey taking classes with the Rosebud Burlesque Club and first performed in 2011.
Since then Chloe has had a (fruitful) career handcrafting over two dozen unique and varied performances. She is an entertaining performer who loves to interact with the crowd and always has a dramatic flair. No stranger to glitter, Chloe spends a lot of time making each prop and costume by hand. Penis Cannon on wheels? Yes She Can!!!
Chloe started her career taking classes with the Burly Queen of the prairies Headmistress Cheripop Purr and has since learned from Burlesque Legend Judith Stein as well as Helvetica Bold, Jolie Stripes, and others. She also loves to try new things like hooping, poi, gymnastics, aerial silks and clowning in order to keep her routines fresh and fun!
In addition to performing burlesque, Chloe loves to dabble in modelling, costume design and making handcrafted art using a variety of re-purposed materials. She is one of the founding members of house archipelago and you can see her work on FB, Instagram or at www.housearchipelago.com
DESCRIPTION: Learn about her processes and how Chloe crafts her unique routines. Bring a paper and pen add some new ideas to your burlesque notebook in this choreographic workshop. There will be some Q & A time with Chloe D Light at the end of the session.
3:45 -5:45pm The Psychology of the tease with Headmistress Cheripop Purr – movement class
The Headmistress is back to teach one more class as a part of the Miss Education Weekend!
Headmistress Cheripop Purr brings her classic style and modern fun to the table with this character discovery workshop .Using psychology of movement techniques gained through her dance training she will guide you as you enhance your clairy of intent through movement. The advance and retreat, the magic of angles, small reveals, face expressions and how you use your eyes tell your viewer a lot. We will utilize these basic tools (and more) in combination with the psychology of movement to discover the fine details of your persona and help you to further develop it through your own personal style of movement. Students should bring a comfie pair of heels, long gloves, a boa or belt (or other boa alternative) and come ready to strip tease! Bring a note book for notes!
6pm Closing ceremonies
Hotel information
The Holiday Inn Express is a stone's throw away – walkable in less than 4 minutes.
http://www.ihg.com/holidayinnexpress/hotels/us/en/saskatoon/yxeca/hoteldetail
The Ramada is also within a 10 minute walk of the dance centre
https://www.ramadasaskatoon.com/
We do not recommend that you stay at the Northgate hotel as it has a bad reputation.  It is super cheap but also questionable – You have been forewarned.
We will be negotiating a corporate rate at both hotels and will have details about room prices shortly.  Please ask them for the corporate rate under Free Flow Dance Centre.
KEEP INFORMED!
Please watch for our announcements coming at you shortly including the Call for Peer Review submissions and our call for instructors and facilitators.
For more information please contact burlesque@sasktel.net or by phone at 306-665-5998.  Information is also available on our website at rosebudburlesque.com